Name: Shana A. Hicks
Nickname:
Age/Sign: 23 (Born Feb. 19th 1976) I am an Aquarius
Shana has been a member of bettie_buddies since 3/10/99
Website URL:
Location: Hmmmm good question ... Tennessee HOME OF THE VOLS ... AND BETTIE!!
Bettie Thoughts: I love Bettie so much becuase...she was so far ahead of her times. She definatly had style even when she was being nasty! I love how she can look like the girl next door, and then turn around and be aggressive.
Interests:Of course collecting anything that I can get my hands on of Bettie. I love basking in the sun, so I am obviously a lifeguard. I enjoy a variety of watersports, from surfing to white water rafting. I also love music.
Favorite link(s): ALL OF THEM!
Favorite Bettie look/pic: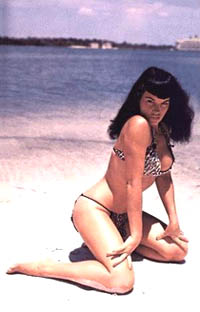 Extras: CARPE DIEM!!! I just love the Bettie Buddies you all are a bunch of swell people! You guys are so much fun and I am so glad to be apart of the group!