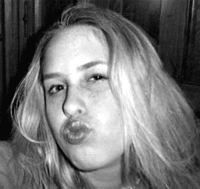 Name: Lisa
Nickname: Larsy
Age/Sign: 16, Leo, 8/14/83
Lisa has been a member of bettie_buddies since 11/29/99.
Website URL
Location: Houston, TX
Bettie Thoughts: I first saw her in the beginning of 9th grade. I have this friend who is a year younger than I who just adores her. So I was at his house and he has these pictures all over his room of her and the moment I saw them I knew I was hooked!! So I went home and immediately looked her up on the internet! And ever since I have just been in a Bettie daze craze!!!!
Interests: I like playing guitar, going to the beach, cruising with my buds, admiring Bettie, going to concerts, dancing, reading, singing, flirting, I'm pretty much up for anything!
Favorite link(s): http://www.mermaid.net/home.htm, http://www.geocities.com/SunsetStrip/Venue/5780/frames.html, http://members.theglobe.com/BettieGoddess/menu.htm, http://www.madonnanet.com/extreme
Favorite Bettie look/pic: I don't know! thats a tuff question
Extras: Life is about riding topless in your convertible!!!!