Name: Charles Gillette
Nicknames: Space Cowboy, your crazy man ( I hear that a lot but am not sure if it's a name?), Of course my wife calls me what ever she likes depending on her mood. Master ,slave , on your knees, if I'm lucky!!
Age/Sign: Born 5/20/53 ( right in the middle of Betties reign hey!!!) Taurus, the bull
Chuck has been a member since 3/4/00
Info on Chuck's tattoo, as seen above:
The Tattoo artist is Dick Cummins, out of Pittsburgh Pa. He is a 100 % free hand tattooist. He has been doing Tats for Chuck for 20 years!
Website URL: Defendercise.com (not up and running yet.) and one I'm working on that's all about Bettie of course
Location: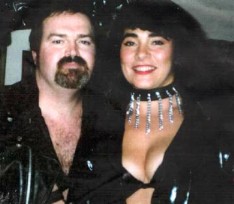 The above pic is of Chuck and his wife of 22 years (congrats!), Marlene; who is wearing her Bettie wig - yum!

Bettie Thoughts: They're all I have, where do I start? She has inspired us (my wife of 22years and mate for over 26 years) to open up more to each other's deepest fantasies, and share in the rewards of total trust and uninhibited pleasures of the flesh. (Is that to strong??) Betties uninhibited attitude is infectious - in a good way. And her daring and risky attitude about fetish was so ahead of her time (to be so relaxed about taking them) it is truly rebellious. We have joined up with Fetish groups in Toronto Ont. and are constantly in a Bettie mind set...
Interests: I'm left handed, so I am very artistic, in many different ways. I like Dali, (Salvador), Designing, Soccer (I coach kids 12 and under), Martial Arts (over 40 years experience and I've been teaching for the last 8 years), Style Jeet Kune Do, I teach Self Defense for a Community college, a Health Club and a Criminal Justice Class. I love to dance, listen to the Blues, and R&B. Love Rock and Roll and when in Toronto listen to House music. I grew up in the sixties, so I'm a old hippy, (I wasn't old then) , Done more than my share of kissing the sky!!! Also love Vampirella and anything to do with women. Play Drums and Guitar. Into BDSM.
Favorite link(s):
Favorite Bettie look/pic: My favorite look is Bettie in any kind of Bondage or Domination wear, of course is there any bad pics of bettie, I love all of them really. Favorite pics, Those that show her relaxed and out of model mode. (looking like she's posing).
Extras: ; I feel like I have a extended family of close friends that I share in a common passion. So glad I found this site and group. Chuck G.