Argo City is proud to announce their debut of the first officially licensed Bettie Page phone cards.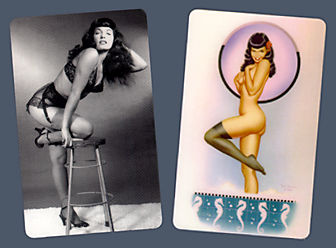 The first image is taken from the famous file of Bunny Yeager, whose legendary photographs immortalized Bettie forever. Many photographers had shot Bettie, but none had captured her sensuality or eroticism in the manner of Bunny Yeager. This very sultry pose is from the "Stockings and Black Lace" pictorial series. The second image is from a painting done by Dave Stevens, who showcased Bettie in the pages of "The Rocketeer". Through the pages of "The Rocketeer", Bettie was introduced to a new generation of fans and faithful followers. Stevens had set a fanatic craze in motion that, since, has kept growing and appears to have no end! The painting is titled "Bettie's Bath" and shows just how good that 'good girl art' can be.

Each Bettie Page phone card includes 5 units (minutes) of pre-paid long distance and can be used to make calls both foreign and domestic. Each edition is limited to 1000 individually numbered cards. They have a suggested retail price of $8.50. There is also a special signature edition limited to 100 of each image, hand-signed by Bettie Page at a special price! A very special surprise greeting awaits the callers of the "Stockings and Black Lace" card. Information regarding the officially licensed Bettie Page Fan Club is contained on "Bettie's Bath".

Take a journey with Argo City and rediscover one of the most beautiful and talked about women of our time. All card versions are available through Argo City Company. To reserve your order, please call 1-800-345-9155, or email


Ken Barnes.
| | | |
| --- | --- | --- |
| TITLE | SIGNED BY | EACH |
| Bettie's Bath | -- | $8.50 |
| Bettie's Bath | Bettie Page | $25.00 |
| Bettie's Bath | Bettie Page & Dave Stevens | $35.00 |
| Bettie's Bath | Dave Stevens | $15.00 |
| Stockings & Black Lace | -- | $8.50 |
| Stockings & Black Lace | Bettie Page | $25.00 |
| Stockings & Black Lace | Bettie Page & Bunny Yeager | $35.00 |
| Stockings & Black Lace | Bunny Yeager | $15.00 |
Argo City Company, 136 Confair Pkwy, Montoursville PA 17754 USA TEL 1-800-345-9155

click to

go back